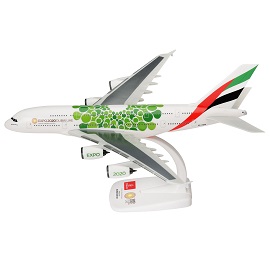 A380 1:250 scale Expo 2020 sustainability model aircraft
$28.00
Buy with Skywards Miles
6,222
Aviation fans will love our special edition Expo 2020 aircraft. The design represents sustainability - one of the three subthemes of Expo 2020 along with mobility and opportunity. As Premier Partner, we're proud to fly the logo and all three designs around the world on our real A380. Add the sustainability model to your collection in this 1:250 hollow plastic version.
additional VAT may apply.
This item has been added to your bag
Quantity entered is greater than stock.
Minimum quantity should be 1 .